Damiana, common name for Turnera diffusa Willd. or Turnera aphrodisiaca Ward is a popular natural aphrodisiac in Mexico and Latino-America, known since the Maya civilization
---
Name: Damiana
Other names: Herba de la Pastora, Mexican Damiana
Binomial name: Turnera diffusa Willd. ex Schult
Synonymous: Turnera aphrodisiaca Ward
Origin: Tropical and subtropical regions of America
---
Damiana is a woody shrub with yellow flowers endemic to Latino America. In the past people consumed Damiana to stimulate and improve sexual performance, meanwhile in Mexico is still the natural aphrodisiac more consumed and marketed (1).

The fresh leaves of Damiana are collected during the blooming season, dried, and chopped to prepare an herbal tea, good not only as a sexual stimulant but also as a tonic, diuretic, and with a good anti-anxiety effect(2).
---
Benefits of Damiana
Damiana has a lot of good properties and effects due to the flavonoids (as apigenin) and other compounds present in the leaves(3):
Aphrodisiac

improve sexual performance
increase sexual desires

Stabilization of testosterone level
Stimulant – Tonic
Anti-anxiety effect
Improve blood circulation
---
Who is Damiana
Turnera diffusa, Willd. (synonym Turnera aphrodisiaca Ward) is an aromatic plant endemic to the tropical regions of America: Caribbean, Mexico, and South America.  This plant is better known by the common names Damiana, Herba de la Pastora, or Mexican Damiana.
Botanical information
Is a small woody shrub that can grow high 1-2 meters, the leaves are oval-lanceolate with serrated margins, 15/20 cm long. In the summer season (from June to September) this plant blooms with 5-petals lobate yellow flowers and is during this period that the leaves are harvested for medicinal purposes (4)
The fake Damiana
Damiana sometimes is confused with Turnera ulmifolia, ("fake Damiana"), a plant with antibiotic properties, and species very close to Turnera diffusa.
---
Traditional use of Damiana

Traditionally Damiana has been used as a stimulant, aphrodisiac, tonic, diuretic, and nerve tonic. Is also used for the treatment of other diseases linked with kidney, menstrual, and pregnancy disorders, diseases related to the gastrointestinal and respiratory system, and reproductive organs, and for the treatment of gonorrhea in Latin American societies (5).

---
Maya and Damiana
According to R. L. Roys, the ancient Maya used Damiana for the treatment of dizziness and loss of balance (from The Ethno-Botany of the Maya, 1931)(6)
Unfortunately, most of the information about Mayan history got lost, but several lists of their traditional plants were drawn up. A particularly useful list is: "Maya Ethnobotany – Complete inventory – Fruit, nuts, root crops, grains, construction materials, utilitarian uses, sacred plants, sacred flowers" by Nicholas M. Hellmuth. This opus contains more than 400 species of plants growing in Guatemala, Mexico, Belize, and Honduras. Damiana, Morning Glory, Calea Zacatechichi, several species of Passiflora, and the Water Lily (very close to Blue Lotus) are present in Hellmuth's list. According to the author, Damiana is described as " Plants believed by local tradition to increase libido"
---

The consumption of Damiana as an aphrodisiac is noted since the time of the Mexican Indians, which have traditionally used its leaves to make a stimulant, aphrodisiac beverage(8).
---
4. Modern use
Nowadays Damiana is present in several products in the botanical product market, suggested as a tonic, stimulant and aphrodisiac. It is theorized that the effect of Damiana is due to its flavonoids such as apigenin (an anti-anxiety)(9) and other compounds that act on sexual desires and relief of anxiety. In any case, the results of the latest study are contradictory, so it is not possible at the moment to confirm scientifically all the properties of Damiana.
---
5. Herbal tea with Damiana:
One of the most popular ways to consume Damiana is by making an infusion with dried leaves. The taste is delicate and pleasant, even without adding any other ingredients; it doesn't contain caffeine.
Damiana is also perfect to use in combination with other natural aphrodisiacs such as Serenoa repens (Saw Palmetto) or Guaraná (Paullinia cupana).
Put 2-4 grams of dried leaves of Damiana (Turnera diffusa) in a cup of hot water (80-100°C). Then leave it in infusion for 5 minutes, then remove the filter.
---
In traditional medicine Damiana is often mixed with other herbs for the treatment of several problems such as sexual disorders, depression, and states of anxiety:
| Association with Damiana | Effect |
| --- | --- |
| Skullcap (Scutellaria galericulata or S. lateriflora) | Anti-anxiety effect |
| Betonica (Betonica officinalis) | Anti-anxiety effect |
| Oat (Avena sativa) | Anti-depressant |
| Saw Palmetto (Serenoa repens) | Tonic and aphrodisiac |
| Guaraná (Paullinia cupana) | Aphrodisiac |
*from Royal Horticultural Society Encyclopedia of Herbes – Deni Brown

Other ingredients to give more flavor to the Damiana tea are:
Rooibos or "Redbush Tea" (Aspalathus linearis),
Honeybush (Cyclopia intermedia)
Wild Rose (Rosa canina) 
Bee-honey
Dried soft berries

---
6. Smoking blend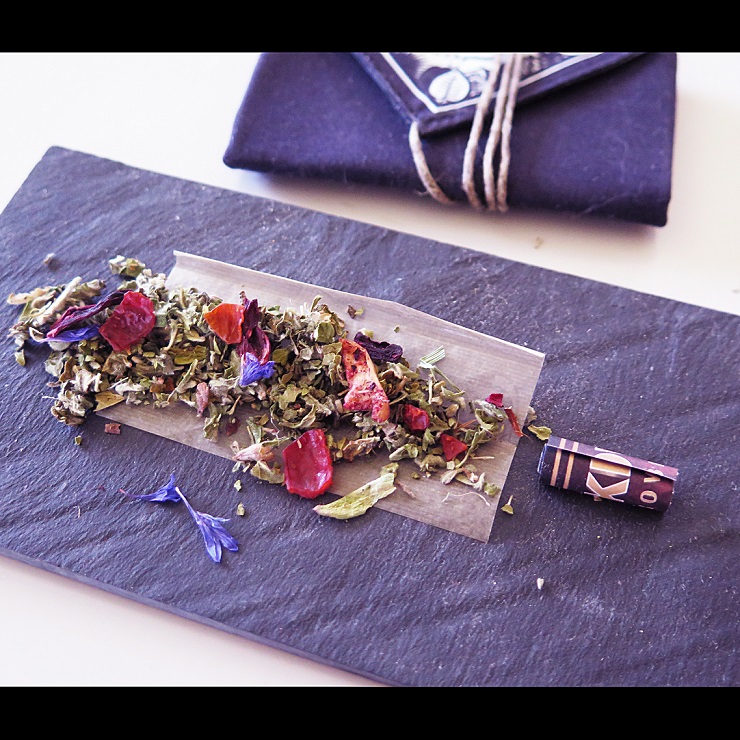 Damiana can be smoked or vaporized, alone or in combination with other herbs, and it represents a good tobacco-free smoking blend
Vape T° 175°C)
Visit our shop!
Damiana – Turnera diffusa
Shredded Damiana leaves (Turnera diffusa), an aphrodisiac and tonic herb from Latino America. Available in bags of 50 grams.
Guaraná (Paullinia cupana)
Guaraná (Paullinia cupana) powedered  for collection and research.
---
Reference:
Felix Heiner, Bjoern Feistel, Kurt Appel –"Influence of traditional Turnera diffusa var. aphrodisiaca (Damiana) extract on monoamine-and glutamate receptor-mediated neurotransmission" 2018 World Congress on Polyphenol Application;
Suresh Kumar, Ruchi Taneja & Anupam Sharma – The Genus Turnera: A Review Update, 2008
Felix Heiner, Björn Feistel, Kurt Appel – Influence of traditional Turnera diffusa var. aphrodisiaca (Damiana) extract on monoamine- and glutamate receptor-mediated neurotransmission, 2018
https://www.rain-tree.com/damiana.htm
Koch L. (1936): Drug collection from Bolivia systematically, anatomically andchemically examined. Arch Pharmacol.
Roys, R.L., 1931. The Ethno-Botany of the Maya. The Department of Middle American Research, The Tulane University of Louisiana, New Orleans.
Maya Ethnobotany – Complete inventory – Fruit, nuts, root crops, grains, construction materials, utilitarian uses, sacred plants, sacred flowers" – Nicholas M. Hellmuth
Lowry, T.P., 1984. Damiana. Journal of Psychoactive Drugs 16, 267–268.
Suresh Kumar & Anupam Sharma (2006) Apigenin: The Anxiolytic Constituent of Turnera aphrodisiaca., Pharmaceutical Biology, 44:2, 84-90
Other consultation:
Sara E Edwards, Ines da Costa Rocha, Elizabeth M Williamson, Michael Heinrich –Phytophsrmacy: en Evidence-Based Guide to Herbal medicinal Products
Smart_drug (ITA) (p. 152-153)
Website: